Sanitation-linked livelihoods project: Six key insights from a learning study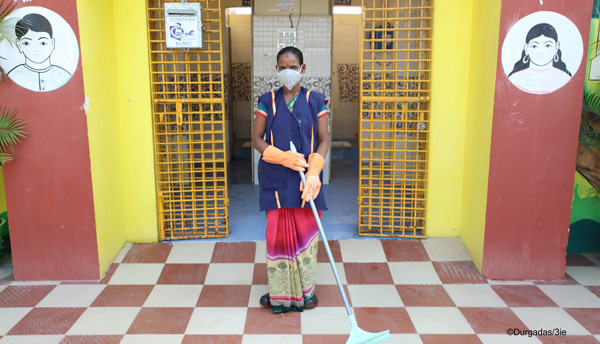 Over the last four years, several Indian states have made strides to empower collectives of women and other vulnerable communities—like transgender people and persons with disabilities (PwD)—to operate and maintain sanitation enterprises and for the provision of sanitation service delivery. This follows the 2018 launch of the Swachh Bharat Mission and the Deendayal Antyodaya Yojana-National Urban Livelihoods Mission (SBM-DAY-NULM) convergence guidelines that provide the Urban Local Bodies (ULBs) with a roadmap to create livelihoods by collectivizing the vulnerable groups and engaging them in sanitation enterprises. To understand how this initiative is working, and to draw lessons from the government's efforts, 3ie undertook a year-long learning study in six cities across Odisha, Tamil Nadu, and Telangana. To know about the feasibility and sustainability of collective-led sanitation work, we used qualitative research methods, including in-depth interviews, focus group discussions and unstructured observations of sanitation facilities. In this blog, we discuss the key findings emerging from our study—supported by the Bill & Melinda Gates Foundation (BMGF) and conducted in partnership with the Technical Support Units (TSUs) of the states.
1.    Stable income during the COVID-19 lockdown
The outbreak of COVID-19, and the lack of employment opportunities due to lockdown, resulted in the demand and uptake of sanitation work by collective members, as it offered a source of income during the time of crisis. Many collectives, which had initially been hesitant to engage with sanitation work due to caste stigmas, started taking up sanitation work due to a lack of other employment avenues. Collectives with members from different castes engaged in sanitation work, in both solid and liquid waste management. The following table shows the different types of sanitation enterprise models managed by collectives and the income generated from these enterprises.
Table 1. Types of collective-led sanitation enterprise models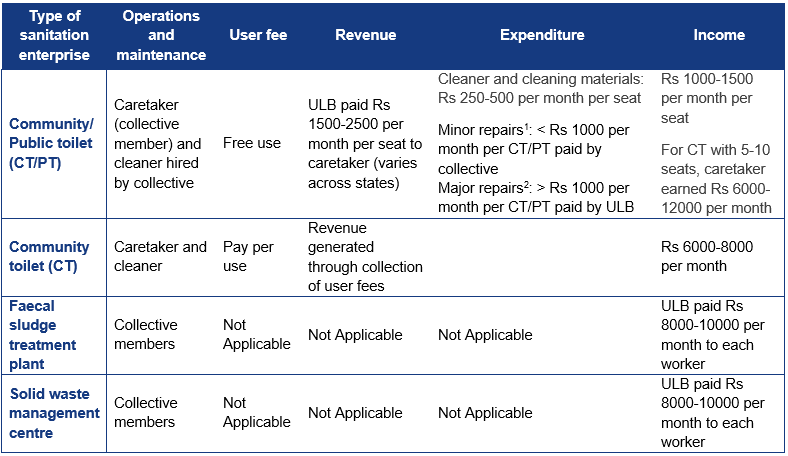 The income earned through this work by women was being used to provide better educational opportunities for their children. While the women were grateful for this opportunity, they did not want their children to continue in the sanitation profession.
2.    Increased recognition and respect
We observed that transgender people, PwD or women from the most marginalized sections who engaged in sanitation work valued it more than other women collectives. Apart from offering a steady source of income, it was also a way to reintegrate them into society. Since it was a government intervention, it was also a source of validation. Some of them have been recognized as role models and awarded by the ULB or state government for their good work through accolades and recognition.
3.    Caste-based norms reinforced
While solid waste management workers belonged to different castes, workers in faecal sludge treatment plants were mostly from scheduled castes, who traditionally engage in sanitation work. Also, while women from different castes engaged as caretakers or resource persons for managing the community and public toilets, the cleaning work was mostly outsourced to people from scheduled castes. This was because of the stigma attached to sanitation work. These practices further reinforced the traditional caste norms of purity and pollution.  
4.    Payment delay challenges and efforts to mitigate them
Payment delays due to complex bureaucratic procedures across ULBs was a challenge, especially in the case of community and public toilets. The community and public toilet caretakers had to first submit the bills, which had to be cleared by the Sanitary Inspector before the file moved to the concerned ULB official. These processes took time, and the delay was often at the inception level, i.e., by the members of collectives filing the bills. Some states have now made strides to streamline the payment system and mitigate delays through direct bank linkages, and ensure payments are made on a fixed date of each month.
5.    Women in sanitation: better income, more burden
Most women engaged in sanitation work through collectives reported that while husbands and other family members helped a little at home, their household responsibilities remained the same as before. This led to a double burden on them. In some places, women cleaners could go to clean the facilities only when accompanied by a male member and were expected to practice the veil at all times.
6.    Men's attitudes and poor civic behaviour counter the efforts of collectives
Miscreants causing damage to community and public toilets led to an increase in the cost of repair work, the burden of which usually fell on the caretaker. The issue of people consuming alcohol and causing damage to the toilet, and men threatening the safety and security of the caretaker within the facility was also reported. In locations with the pay-to-use system, community members often did not pay for the facilities after using them. This led to financial losses and challenges in maintaining the toilets amidst dwindling resources. In some cases, this also resulted in families of the women collective members dissuading them from undertaking the work.  
Way forward
Traditionally, sanitation work has been considered a marginal occupation. The government's engagement with collectives in sanitation work has provided an impetus, not only towards improving the urban sanitation infrastructure, but also making the work professional, and in turn aspirational for the people engaged in it.  Although the program is in its nascent stage and certain challenges remain, it offers the potential to empower marginalized members like the transgender people, PwD and women, and ensure they are not relegated to the periphery of society.