3ie at ANH Academy Conference 2023

The Agriculture, Nutrition & Health Academy (ANH) Week bring together the community of researchers, practitioners and policymakers working at the intersection of agriculture, food systems, nutrition and health. Its objective is to foster knowledge exchange, innovation, learning and uptake of interdisciplinary research.
Venue: Bingu International Convention Centre (BICC), Lilongwe, Malawi and online
3ie is participating in the online, in-person and hybrid formats at ANH2023 in Lilongwe, Malawi. Our presentations focus on several important topics, including rapid evidence for agriculture, nutrition and health policy decision; fiscal policies in nutrition, long-term effects of agricultural systems interventions as well as impacts and processes of food systems programs. . Read below to read about the 3ie sessions. Click here for more information about the conference.
3ie at ANH2023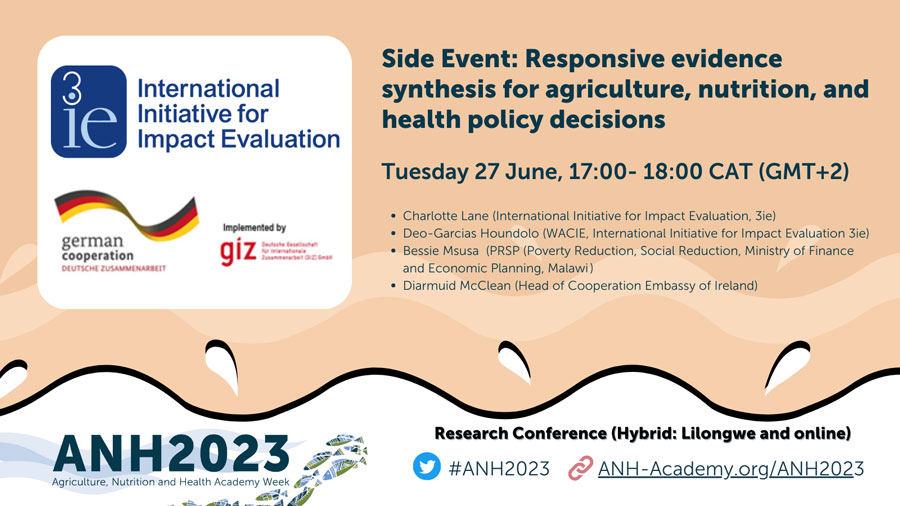 Side Event: Responsive evidence synthesis for agriculture, nutrition, and health policy decisions
Date: 27 June 2023
Time: 17:00-18:00 CAT (GMT+2)
Venue: Street: Umodzi Park Chilembwe, Lilongwe
Online: Watch it on zoom
Abstract
We invest billions of dollars every year to achieve international targets in agriculture, nutrition, and health, such as those set by the United Nations and the World Health Assembly. Policymakers also invest heavily in research to identify the most effective, and cost-effective uses of these funds. Over 100 impact evaluations or systematic reviews on the effects of food systems interventions on food security and nutrition in low- and middle-income countries have been published each year for the last decade. However, to make this information actionable, it needs to be aggregated and synthesized in a manner that is both academically rigorous and practically useful. 
In this 3ie-led session, the panelists will discuss the challenges that policymakers face in finding the evidence they need to make programming decisions. Simultaneously, they will also discuss the challenges that researchers face in providing this evidence in a timely and nuanced manner. The discussion will be framed around the responsive synthesis efforts that 3ie undertakes to develop actionable conclusions regarding intervention effectiveness. This will include a presentation of findings from our women's empowerment rapid evidence assessment, fiscal policies systematic review, and review of the long-term effects of food systems interventions (in-publication).
Speakers
Charlotte Lane, Senior Evaluation Specialist, 3ie;  
Julia Hoigt, Advisor in the Governance Cluster, GIZ;
Deo-Garcias Houndolo, Regional Coordinator, West African Capacity Building and Impact Evaluation Program (WACIE), 3ie;
Bessie Msusa, Poverty Reduction, Social Reduction, Ministry of Finance and Economic Planning, Malawi; and
Diamuid McClean, Head of Cooperation, Embassy of Ireland
---
3ie poster presentation at ANH2023
Date: 27 June 2023
Time: 11:00-12:15 CAT
Venue: Room: MVUU (for a quick-fire session) | Room: NJOBVU (for onsite poster viewing session)
Online: Click here to watch the session
Speaker: Jane Hammaker, Research Associate, 3ie
Topic: Systematic review of fiscal policies in nutrition
---
Parallel thematic session D: Food system programmes: Impacts, processes and economics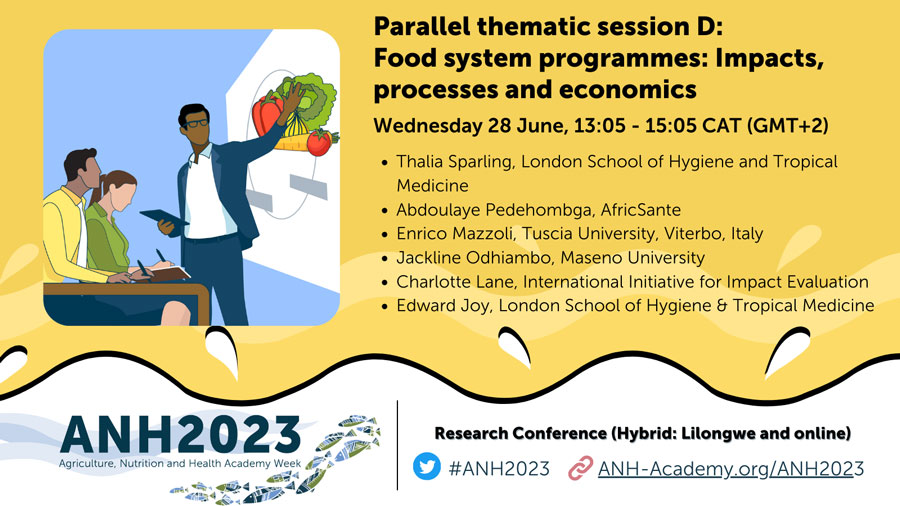 Date: 28 June 2023
Time: 13:05-15:05 - CAT (GMT+2)
Online: Watch it on zoom
Speaker: Charlotte Lane, Senior Evaluation Specialist, 3ie
Topic: Continuous monitoring of the evidence on food systems and nutrition: Learnings and use/rapid evidence assessment of the long-term effects of agricultural systems interventions: A meta-analysis
---
Parallel thematic session E: Equity in agriculture, food systems, nutrition and health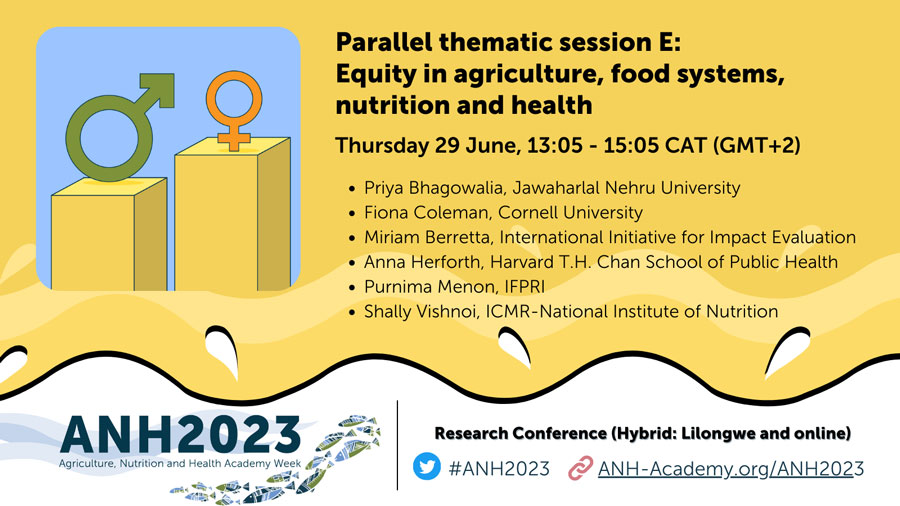 Date: 29 June 2023
Time: 13:05- 15:05 - CAT (GMT+2)
Venue: Umodzi Park Chilembwe
Online: Watch it on zoom
Speaker: Miriam Berretta, Senior Research Associate, 3ie
Topic: Rapid evidence assessment on women's empowerment interventions within the food system: a meta-analysis