Rhona Mijumbi-Deve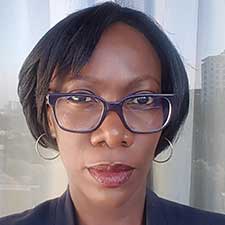 Senior Research Fellow
Rhona Mijumbi-Deve is a 3ie senior research fellow. She is currently a senior research scientist and the founding director of the Center for Rapid Evidence Synthesis (ACRES) at Makerere University in Uganda. Rhona's work involves advisory support to all levels of government ranging from districts to the Office of the President and similar support to other countries in Africa, Latin America, Asia and Eastern Europe. Rhona is also involved in research on evidence-to-policy strategies or interventions and has built a team of well-respected research scientists and is involved in building similar capacity globally. Furthermore, she is involved in building rapid response services similar to that at ACRES, which aim to support urgent decision-making with high-quality evidence.
Rhona is also a scholar of health diplomacy and security, with a special interest in the alignment of health in L&MICs and foreign policy (including the role evidence and evidence networks play in this), and the evolution of framing of health diplomacy with the international security agenda. Rhona holds a Bachelor of Medicine and Bachelor of Surgery from Mbarara University of Science and Technology in Uganda, a Masters in International Public Health from the University of Queensland, and a Masters in Epidemiology and Biostatistics from Makerere University in Uganda. She has completed her PhD in Health Policy program, a combined program at McMaster University in Canada and Makerere University, Uganda. She is also an honorary research fellow at the Africa Center for Evidence (ACE) at the University of Johannesburg.
---
The Research Fellows Program brings together experts from diverse backgrounds to provide intellectual leadership and technical support to strategic areas for 3ie. Our fellows work with our global team and are uniquely positioned to lead or support new and ongoing initiatives and programs in their areas of expertise.