Sonia Chand Sandhu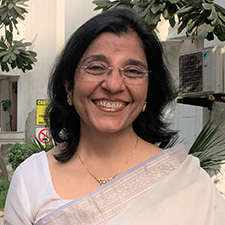 Senior Research Fellow
Sonia is a development practitioner with 30 years of international experience, with demonstrated leadership in environment, climate and urban resilience operations, institutional analysis, knowledge management, and capacity development at Asian Development Bank (ADB) and the World Bank.
In her current role as Principal Evaluation Specialist, heading Independent Evaluation Department's (IED) capacity development program at ADB, she develops and implements capacity-building programs on monitoring, evaluation and learning for internal and government stakeholders to improve development effectiveness and institutional accountability across ADB's member countries. She also leads the Asian Evaluation Week, which is IED's flagship event on knowledge sharing and learning for global audiences.
At the World Bank, she partnered with local, state, and national governments to lead environment policy reform for sustainable infrastructure and economic development in fragile and vulnerable geographies in India such as environment policy reform in Himachal Pradesh and co-leading India's first integrated coastal zone management project. She conceptualized and published innovative integrated planning frameworks for livable "GrEEEn" cities (Economic, Environmental, Equity), including climate adaptation and disaster risks management, resulting in investments and execution of new business lines. Other areas of her work include management of environment safeguards of large multi-sector infrastructure investments at World Bank and ADB for due diligence, compliance and quality assurance.
Through her career, Sonia has held multiple positions from team leader to technical team member of investments and technical assistance projects across various operations departments. She is a Doctoral Candidate at the University of Philippines, Diliman, holds a Master's in Environmental Engineering from College Park, Maryland, USA, a Bachelor's in Architecture from Chandigarh, India, Executive Education certificate in the "Leading Economic Growth" Program from Harvard University, and an Executive Diploma in "Urban Management Tools for Climate Change" from Institute for Housing and Urban Development Studies, Rotterdam, Netherlands. Sonia's career journey is motivated by moving out of comfort zones, trying new approaches and wearing different hats to contribute to various dimensions of development.
---
The Research Fellows Program brings together experts from diverse backgrounds to provide intellectual leadership and technical support to strategic areas for 3ie. Our fellows work with our global team and are uniquely positioned to lead or support new and ongoing initiatives and programs in their areas of expertise.