Access is not the same as use: tackling behavioural barriers to the use of new resources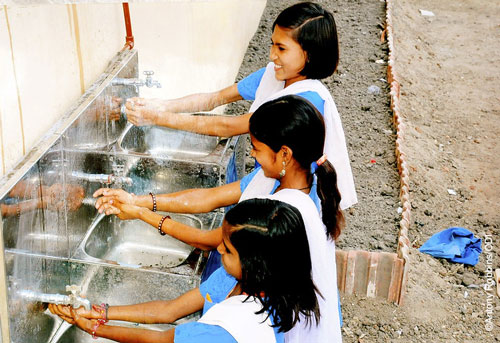 The Indian government has taken impressive efforts to accelerate the country's development in the areas of water and sanitation. In response to the needs of a growing population and the stresses of climate change, the new Jal Shakti Mission set up by the government will combine the efforts of the Swachh Bharat Mission (which supports rural sanitation) with the Jal Jeevan Mission (which is aimed at providing access to piped water in rural areas). This combined initiative will focus on providing clean and sustainable water and sanitation to every rural household in the country by 2024. These are impressive achievements and plans, well worthy of praise.
However, as the government moves forward with its laudable efforts to sustainably address the issues of water scarcity and poor sanitation, it will be important to consider the factors beyond resource restriction that can inhibit the adoption of healthy behaviors. The provision of things (eg. toilets and piped water) is not sufficient to induce the necessary behaviour change to achieve the desired health impacts of the interventions. Access to health promoting resources will not necessarily lead to the use of those resources.
Considerable behavioural support may be necessary to overcome cultural, social, habitual, and emotional barriers to the adoption of healthy behaviours even when the resources are available. These barriers were identified in the 3ie-funded evidence program Promoting Latrine Use in Rural India. The program employed behaviour science-informed interventions to support latrine use among individuals with latrine access in Indian states of Bihar, Karnataka, Odisha, and Gujarat. It demonstrated with latrines, as with other things, access is not the same as use.
At baseline, only 60 to 80 per cent of individuals with access to latrines reported that they consistently used them. Many people choose not to use latrines due to habit, socialization, and negative attitudes; and not because they do not have access to a latrine. Participants reported being uncomfortable using latrines, and many felt that open defecation was more convenient and desirable. This is understandable in a context in which latrine use is not the norm. Although latrine use increased in all sites between baseline and endline (probably due to the Swachh Bharat Mission in part), usage increased more in intervention sites than in control sites in two states – Karnataka and Odisha. This indicates the possibility that behaviour science-informed interventions may be successful in increasing the adoption of healthy behaviours.
As the government's efforts to provide access to clean water and adequate sanitation in rural areas continue to expand, there needs to be an equal effort to address the behaivoural barriers to the use of these new resources. Their use must be integrated into a way of life. Behaviour science-informed interventions are one way to provide individuals with the motivation to adopt these health-promoting behaviours into their way of life. Efforts need to be sensitive to the unique challenges that may be experienced by specific groups, including women, children, and members of marginalized castes. Interventions should support the individual's choice to adopt these behaviours, without being too forceful or restrictive. As always, interventions should be tailored to the unique context and barriers of the locality in which they are implemented, and re-evaluated in each new setting. However, these efforts cannot be forgotten as provision of resources alone is insufficient.