Delivering Global Public Goods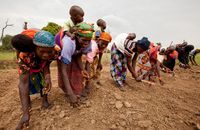 Pre-schools in Mozambique boosted children's social and cognitive development, and increased the likelihood that both they and their siblings will attend primary school.
Independent audits of industrial plant emissions in Gujarat, India produced more accurate audits and also curtailed pollution.
Burdensome registration requirements and high cost of obtaining agricultural electricity connections in West Bengal, India, had unnecessarily restricted access to water for small farmers.
A newly designed cookstove in northern Ghana failed to achieve the expected benefits in reduced exposure to smoke and more efficient use of fuel wood.
Providing social recognition to hairdressers in Lusaka in Zambia proved more effective than cash incentives in encouraging them to sell female condoms, though no mechanism helped in achieving substantial sales.
These are not disparate statements but are lessons learned from 3ie-supported studies released in 2012. 3ie is now making an important contribution to filling the evidence gap of what works in development and why. And it is not that evidence is being produced for evidence's sake. Pre-schools are being rolled out across Mozambique, independent audits are being adopted in Gujarat and discussed with other states, registration requirements for small farmers in West Bengal have been abolished, and the NGO in northern Ghana has gone back to the drawing board. These are just some of the examples of how evidence from 3ie-funded studies is being used to inform better policies. And better policies can improve lives.
During the course of 2012 3ie clearly started to deliver on its primary purpose of filling the evidence gap in development effectiveness. We have become recognised as an agency with robust, independent and credible review processes. Both governments and development agencies can turn to us for assistance in managing single studies, external peer review of those studies, or a whole programme of studies under our Thematic Windows.
In 2012 we put together new Thematic Windows on the promotion of medical male circumcision and the use of self-testing kits for HIV/AIDS. We have also been working on an ambitious joint programme of agricultural impact evaluations in sub-Saharan Africa and South Asia with AGRA and the International Fund for Agricultural Development, funded by the Bill and Melinda Gates Foundation and the UK Department For International Development. We are also exploring Thematic Windows on climate change and humanitarian assistance. The work done in 2012 will come to fruition in 2013, when all these Thematic Windows will be launched
Another major highlight for us last year was the increasing demand for impact evaluations through 3ie's Policy Window. This is an innovative window through which implementing agencies can come to us to identify researchers for conducting impact evaluations of flagship programmes. We are currently processing grants for the Philippines Department of Education, NEPAD's e-education programme in Africa, and the Magic Bus sports for girls programme in India, to name a few.
3ie not only funds studies, it also sets international standards for impact evaluation. For the studies we fund, we do this through our review process. For others, we offer quality assurance services and issue conceptual papers and guidelines. We have also launched a replication programme to test the robustness of study findings, and are preparing a registry of planned impact evaluations in low and middle income countries.
We have continued to set standards and push the frontiers of methods and knowledge with our systematic review programme. We made two further rounds of awards for systematic reviews and helped organize the first ever international event on Systematic Reviews in International Development in Dhaka, Bangladesh. We continued to focus on increasing the policy relevance of our studies and completed our first 3ie-style policy friendly systematic review reports which will be published in early 2013.
All in all, 2012 was a very good year for 3ie. Our committed staff in New Delhi, London and Washington DC plan to make 2013 even better.