What Works Global Summit 2023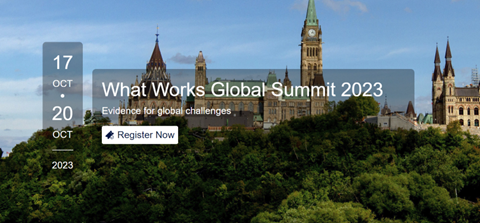 The What Works Global Summit is the largest event of its kind, bringing together researchers, leaders in evidence-based decision-making and practitioners to share the latest evidence-synthesis research, research methods and practice strategies for improving the lives of individuals, families and communities worldwide.
This year, the What Works Global Summit (WWGS 2023) will be an in-person event taking place in Ottawa, Canada and co-hosted by the Campbell Collaboration and the Bruyère Research Institute. The conference will run from Wednesday, 18 October to Friday, 20 October with pre-conference workshops on Tuesday, 17 October.
3ie will participate in few sessions
Evaluating evidence on climate mitigation policies  (Campbell Climate Solutions Coordinating Group presentation)
18 October, 2:30 PM - 3:30 PM
Panellists:
Birte Snilstveit, Director of Synthesis and Reviews and Head of London office, 3ie
Hugh Sharma Waddington, Dr, LSHTM and London International Development Centre
Jan Minx, Head of working group Applied Sustainability Science
Tarun Khanna, Assistant Professor, University of British Columbia
Plenary: United Nations Development Programme (UNDP) coalition on evidence synthesis for the Sustainable Development Goals
19 October, 9:00 AM - 10:15 AM
Birte Snilstveit, Director of Synthesis and Reviews and Head of London office, 3ie
Daniel Ortega, Director of Impact Assessment, Development Bank of Latin America - CAF
Deborah McWhinney, Evaluation Advisor/Lead, Meta-Synthesis Team, United Nations Population Fund (UNFPA)
Kerry Albright, Deputy Director and Principal Adviser-Evaluation, United Nations Children's Fund (UNICEF)
Shivit Bakrania, Evaluation Specialist, United Nations Development Programme
Fifteen years of evidence synthesis in international development: lessons learnt and opportunities for the future  (Campbell International Development Coordinating Group presentation)
19 October, 1:00 PM - 2:00 PM
Birte Snilstveit, Director of Synthesis and Reviews and Head of London office, 3ie
Laurenz Mahlanza-Langer, Pan-African Collective for Evidence
Rhona Mijumbi, Head of the Policy Unit at the Malawi-Liverpool-Wellcome Programme (MLW)
Geospatial Impact Evaluation of Agricultural Intensification Program in Niger  (Presentation)
20 October 20, 10:45 AM - 12:00 PM
Fiona Kastel, Research Associate, International Initiative for Impact Evaluation (3ie)
Assessing the impact of policy and institutional reforms in international development: A Scoping Review  (Presentation)
20 October 20, 4:00 PM - 5:15 PM
Fiona Kastel, Research Associate, International Initiative for Impact Evaluation (3ie)