Rural India Livelihoods Project
Launched in 2011, the National Rural Livelihoods Mission (NRLM) aims to link the rural poor in India to sustainable livelihood opportunities and financial services. In collaboration with the Ministry of Rural Development and the Bill & Melinda Gates Foundation, 3ie is working to generate rigorous evidence on the impacts of this large-scale programme on livelihood promotion and social mobilisation.
Spotlight | Working paper
Several government programmes that target women are built on the premise that improvements in a woman's financial standing will improve her status within the household; helping to redress social norms that adversely affect her choices, opportunities, and welfare. Evaluations of many of these programmes, however, suggest mixed results. One such area where results are mixed is the impact of the size of the loan on women's decision-making within the household. In this latest 3ie working paper, the authors provide empirical evidence to advance and test the hypothesis that providing women with access to large loans enhances their decision-making ability and intrahousehold allocations within the household. Read working paper
In December 2015, 3ie was commissioned by the Gates Foundation for quality assuring and generating evidence on various aspects of the NRLM. We are conducting impact evaluations, quality assuring selected evaluations on livelihood interventions and synthesising and mapping the available evidence on the effectiveness and efficiency of group-based livelihoods interventions. Key lessons from this work are expected to inform the design and expansion of the programme.
Under the closely-related Swashakt evidence programme, 3ie is also funding the implementation and evaluation of innovative projects to support women's collective enterprises operating in partnership with state rural livelihoods missions.
Multistate evaluation of the National Rural Livelihoods Project
3ie collaborated with the rural development ministry, the Gates Foundation and the World Bank to conduct a large-scale evaluation across nine states where the National Rural Livelihoods Project (NRLP) was implemented. This report underscores NRLP's impacts on a range of household and individual level economic, social and empowerment outcomes. Its authors also assess the quality of institutions created by the programme.
Links to study outputs
Evidence impact | 3ie evaluation informs discussions in the Indian Parliament
In September 2020, India's Minister of Rural Development cited the 3ie multistate evaluation of the central government's National Rural Livelihoods Programme in the Upper House of Parliament. Responding to a question pertaining to the details and impacts of funding provided to SHGs under the DAY-NRLM, the minister shared key findings from 3ie's study – weeks after the researchers shared evaluation findings with ministry officials.
State-wise data from the National Rural Livelihoods Project
To ensure the findings of our work are easily accessible by those working on the evaluation sector, we have developed factsheets that provide an overview of the data collected through 3ie's evaluation (2018-2019). It includes data from 27,000 households from 1,052 villages across nine states in India.
The full dataset will be made available after 31 December 2021. For queries about these factsheets, please write to info@3ieimpact.org.
Key activities and products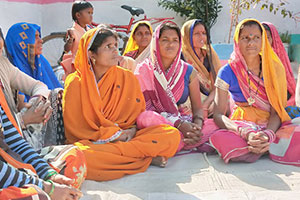 Evidence gap map on group-based livelihood interventions in L&MICs
This map takes stock of available evidence on the impact of group-based livelihoods programmes on economic, social and empowerment outcomes in low-and middle-income countries.
View map | View report | View blog
---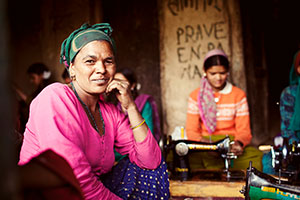 Synthesis of livelihoods programmes in L&MICs
This report systematically reviews existing evidence from group-based livelihoods interventions in L&MICs with the objective of answering what works, how, why and for whom.
---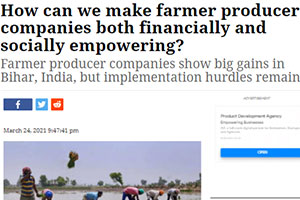 Process and impact evaluation of a rural development programme in Bihar
3ie has conducted a process evaluation and an impact evaluation of the Women's Advancement in Rural Development and Agriculture (WARDA) programme, which focuses on household economic welfare, as measured by income levels and women's empowerment. Technoserve, JEEViKA and the Gates Foundation collaborated to provide technical assistance on this intervention, develop a multi-year roadmap to form and facilitate smallholding women farmers' producer groups.
View process evaluation report | View media article
---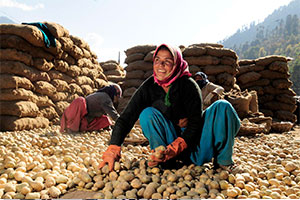 Can collectives help overcome challenges facing small and marginal farmers in India?
This brief summarises findings from a literature review that 3ie commissioned to understand how and whether farmer collectives have achieved their stated aims, and to analyse factors affecting their performance. This is part of a wider initiative to build and consolidate evidence on group-based livelihood initiatives in India.
Other activities | In addition to these, activities we also collaborated with JEEVikA (Bihar Livelihoods Mission) on a management information system of a sanitation program and conducted some formative research to inform the implementation of Project Mesha, a community-based program for goat rearing. For queries about this work, please write to info@3ieimpact.org
Additional reading | Compiled list of World Bank resources on rural growth
Events
Related content
There are no systematic reviews
There are no replication studies